Gloucester's ONLY TV Repair SHOP!
We repair all brands of LCD/LED HDTV's
Pick-Up & Delivery Available
What do we fix?
We fix LCD, LED, and Plasma TVs, specializing in the following brands:
Most Popular
Samsung, LG, Panasonic, Philips, Vizio, Sony, Insignia, Hitachi, Sanyo, RCA, Polaroid, Element, Toshiba, JVC, Olevia, Akai, Haier, Maxent, Sigmac, Viore, Pioneer, Sharp, Sylvania, and Zenith.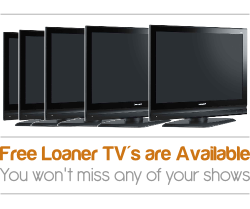 We sell New & Refurbished TV's. Starting @ $50!
Does your TV have any of these symptoms?

No initial image on screen (no picture, but light indicating the unit is on)

Doesn't turn on at all

LED in the front shows the TV is on but there is no image or sound

Tv turns on, sound works but no picture

LED in the front is blinking, and the image is not showing

TV turns on and then right back off

TV turns itself on and off constantly until unplugged

Sound is not working

Inputs are no longer working

image appears really faint

colors seem washed out or and solarized
Tv turns off randomly or after a specific set of time
Tv turns on but freezes
Tv is stuck in color test pattern mode

If so CALL US today! 804-684-5599